Refresh. Renew. Restore. A Garden Symposium <-- SOLD OUT!
March 11, 2017 @ 8:00 am

-

3:00 pm

Join us for our tenth annual Garden Symposium on Saturday, March 11, 2017 at the Stuart Country Day School in Princeton, NJ.  This year the theme is Refresh, Renew, Restore!   We have an exciting line up of speakers, beginning with Tony Avent, famed plantsman and owner of Juniper Level Botanic Gardens, as well as the plant junkies ultimate nursery, Plant Delights, in Raleigh, North Carolina.  Ruth Rogers Clausen grew up in Wales and has contributed books and magazine articles to the gardening profession, been an editor of gardening magazines, and lectured, advised and judged for botanical gardens and flower shows all across the country and around the world. To celebrate our tenth symposium, we are bringing back hugely popular Ken Druse, whose podcasts, books and articles continue to inspire his fans. Don Leopold, distinguished teaching professor and environmental advocate will help us plan and plant sustainable and beautiful landscapes with native plantings.  And once again, Mercer County's Barbara J Bromley will help you with your gardening questions and concerns.
---
THIS EVENT IS

SOLD OUT

No additional registrations are currently being accepted at this time.
---
Schedule of the Day
8:00-9:00      Breakfast/Book sales
9:00-9:15       Opening Remarks and Welcome
9:15-10:15       Tony Avent – Landscaping in Drifts of One
10:15-10:45    Coffee Break/Book Sales
                         Q&A with Barbara J. Bromley
10:45-11:45    Ruth Rogers Clausen – A Glorious Last Hurrah!
11:45-12:45    Lunch/Book Sales/Slide Show
12:15-12:45    Q&A with Barbara J. Bromley
12:45-1:45      Ken Druse – The New Shade Garden:
                         Creating a Lush Oasis in the Age of a Challenging Climate
1:45-2:15        Coffee Break/Book Sales
2:15-3:15        Don Leopold – Creating and Restoring Sustainable Landscapes
                         with Native Plants and Natural Plant Communities
3:15-3:30       Closing Remarks and Announcement of Gardener Auction Winners
---
Lunch Choices
Ham & Swiss Cheese with lettuce & tomato, mayo, hickory honey mustard on multigrain bread, bag of potato chips, chocolate chip cookie, and beverage
Chef Salad with ham, turkey, Swiss & Cheddar cheese, bacon, tomato on fresh leaf lettuce, bag of potato chips, fruit cup, and beverage
Mediterranean Veggie with cucumber, provolone cheese, lettuce, tomato, olives, peppers on multigrain flatbread, bag of potato chips, peanut butter cookie, and beverage
---
Featured Speakers:
Landscaping in Drifts of One: A Focus on Plant Combinations
Gardening rules say to limit your plant palette, but this only makes gardens boring and identical.  Instead, a focus on increasing botanical diversity by paying closer attention to colors, textures, sizes and forms allows you to create a much more interesting, aesthetically pleasing, and botanically diverse garden.
Tony Avent is the owner of Plant Delights Nursery in Raleigh, North Carolina, which prides itself on "Preserving, Studying, Propagating, and Sharing the World's Flora". Tony founded this nursery to help fund the activities of Juniper Level Botanic Gardens, a display and research garden with over 11,000 plants. A graduate of North Carolina State University, Tony was a student of the late horticulture professor J. C. Raulston, who instilled in him the quest for the newest and best garden plants from around the world. Tony is well known as a lecturer and garden writer and recipient of prestigious awards from the American Horticultural Society, the North American Rock Garden Society, and the North Carolina Association of Nurserymen, to name a few. In addition, he has participated in many international plant exploration expeditions. Originally drawn to horticulture by a quirky combination of genes, Tony actually began selling plants when he was a young kid, so selling plants as an adult seemed natural to him. He quickly realized that starting a nursery was the best way to cover the costs of plant addiction without having to get a real job. "It's sort of like a gambler opening a casino or a car buff opening an auto repair shop." Tony is a lighthearted garden genius who tired of letting Mother Nature put him in his place. "Nurseries are for people who want to be in a business that embraces gardening, [and] enriches peoples' lives, while controlling their own destinies … as much as Mother Nature will allow." Tony Avent runs his nursery, Plant Delights, together with his wife, Anita; they receive help from their cats.  http://www.plantdelights.com/
---
A Glorious Last Hurrah!
Too many gardeners look at their gardens on Labor Day and decide it is done for the year. But gardens should be attractive from New Year's Day to New Year's Eve. This talk focuses on annuals, perennials, and shrubs that provide interest through the fall and into winter.  So plan ahead for a glorious year of gardening!
 Ruth Rogers Clausen was trained in horticulture at Studley College in England, and received her M.S. in Botany from Kent State University, Ohio. Since 1976 she has free-lanced as a teacher, lecturer, and author in the US and Canada. In addition to serving as a judge at flower shows, including the Cincinnati Flower Show, the Capetown South Africa Flower Show, and the Ellerslie New Zealand Flower Show, she was Horticulture Editor for Country Living Gardener magazine for 7½ years. Ruth has contributed articles to Brooklyn Botanic Garden's Handbooks, and to horticultural trade and consumer magazines, and consults on many horticultural books. In addition to the three volumes in The American Garden Guides Series, she has authored many books, including Perennials for American Gardens with Nicolas Ekstrom; Dreamscaping; 50 Beautiful Deer-Resistant Plants, and most recently, Essential Perennials with Thomas Christopher. Ruth is a member of the Advisory Committee for the School of Professional Horticulture and serves on the Board of Directors for Delaware Botanical Gardens.  https://www.timberpress.com/speakers/author.php?id=1548
---
Q&A with Barbara J!
No one does it better than Barbara.  Considered one of the finest diagnostician in New Jersey, Barbara will address your gardening anxieties. So bring questions, bring samples and bring concerns to the Saturday Symposium for one-on-one guidance on practical, responsible gardening to help you have the best garden in your neighborhood.
Barbara J. Bromley, Mercer County Horticulturist and Master Gardener Advisor, is recognized through the horticultural community of NJ as an outstanding diagnostician. For more than 30 years she has taught horticulture and environmental responsibility to homeowners, professionals, garden clubs, civic groups, and Master Gardener programs. The author of a series of Information Sheets on horticultural topics of particular interest to local New Jersey gardeners, Barbara is a gardening resource for local television, radio and newspapers, providing information for lawn, landscape, and public health professionals, as well as commercial pest control operators and residential clients.  http://mgofmc.org/contact-us/
---
The New Shade Garden: Creating a Lush Oasis in the Age of a Challenging Climate
2015 was the hottest year on record — until 2016. 
Ken Druse plumbs the depths of shade once again – 20 years after the publication of his best seller, The Natural Shade Garden. This time, it's to tackle the stresses that have arisen due to our changing climate. The low-stress environment of shade (cooler temperatures, fewer water demands, carbon sequestration) is extremely beneficial for our plants, our planet, and us. Ken details new ways of looking at all aspects of the gardening process, in topics such as designing your garden, choosing and planting trees, preparing soil, tackling the deer problem, and discovering the vast array of flowers and foliage – all within the challenges of a changing climate, shrinking resources, and new weather patterns.
Ken knows that the best defense is to create a verdant retreat – he says, "The garden of the future will be in the shade."
Ken Druse is a celebrated lecturer, an award-winning photographer, and an author, who has been called "the guru of natural gardening" by the New York Times. He is best known for his twenty gar­den books published over the last twenty-five years. The American Horticultural Society listed his first large-format work, The Natural Garden (Clarkson Potter, 1988), among the best books of all time. His book, Making More Plants (Stewart Tabori & Chang, 2012) won the award of the year when it was first published from the prestigious Garden Writers Association. That group gave Ken the 2013 gold medal for photography and the silver for writing for his book, Natural Companions. In 2015, Ken won the gold medal for photography. His latest book, published that year, is The New Shade Garden: Creating a Lush Oasis in the Age of Climate Change. In 2013, the Smithsonian Institute announced the acquisition of the Ken Druse Collection of Garden Photography comprising 100,000 images of American gardens and plants.  The Garden Club of America presented Ken with the Sarah Chapman Francis medal for lifetime achievement in garden communication.  http://www.kendruse.typepad.com/
---
Creating and Restoring Sustainable Landscapes with Native Plants and Natural Plant Communities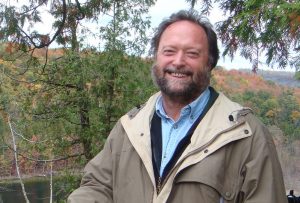 Looking for no maintenance/long-lived woody species adapted to extreme conditions?  Don will discuss many beautiful natives that can adapt to salinity, drought, or shade and also attract wildlife, especially birds and butterflies.  Many produce food for people and are even deer resistant.  While highlighting native species for challenging sites, he will also look at the ecological role of these species in their natural communities.  How these assemblages of species can be used for home gardens as well as urban projects and larger scale restoration of degraded industrial landscapes will also be covered.
Donald J. Leopold earned his Ph.D. in forest ecology from Purdue University in 1984, his M.S.F. in forest ecology from the University of Kentucky in 1981, and B.S. in ornamental horticulture/nursery management from the University of Kentucky in 1978. He is Distinguished Teaching Professor and Chair in the Dept. of Environmental and Forest Biology at the State University of New York College of Environmental Science and Forestry (SUNY-ESF). Don has published over 60 journal papers, six books, and many additional publications, all generally about topics in forest and wetland ecology, and native plants. Don's fifth book, Native Plants of the Northeast: A Guide for Gardening and Conservation is a guide to over 700 native trees, shrubs, vines, graminoids, wildflowers, and ferns that are valuable for garden and restoration plantings. In August 2006, this book received the Garden Writers Association Silver Media Award for excellence in horticultural writings. In 2009, Don received the NY State Nursery and Landscape Association George L. Good Gold Medal of Horticulture Award for outstanding contributions to horticulture in New York State. His research focuses on examining drivers of diversity at micro to macro scales, and applying ecological principles from natural communities to the development of sustainable green systems and restoring badly degraded landscapes. He is currently on the editorial board of the Northeast Naturalist and is a former chair of The Nature Conservancy, Central New York Chapter. Don was awarded their Friends of the Land Award in 1995. His Textbook of Dendrology (J.W. Hardin, D.J. Leopold, and F.M. White), is the primary dendrology text in North America, and is widely used in other countries. http://www.esf.edu/faculty/leopold/
---
Printable copy of our 2017 Gardening Programs and Events brochure