431 A Federal City Road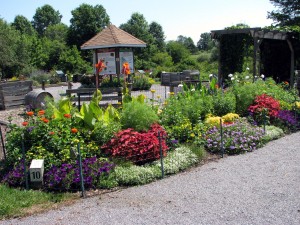 Pennington, NJ    + Google Map
Mercer Educational Gardens is an award-winning site that features seven display gardens, a wetland meadow restored with native grasses and wildflowers, and more than 20 composting methods for home use. Transforming garden and household refuse into compost, an organic soil amendment, is a primary educational focus. The display gardens demonstrate suitable plant selection and culture for various types of conditions.  Visitors are encouraged to take self-guided tours, and public gardening events and programs are held at the site several times a year.
Below is a link to a listing of all plants growing at the Mercer Educational Gardens as of 2017.
Conveniently situated adjacent to the Lawrence-Hopewell Trail, the site is located in the Equestrian Center district of Mercer Meadows. It is maintained and supported by the Rutgers Master Gardeners with auxiliary help from the Mercer County Parks Commission.
The Mercer Educational Gardens is unique in Mercer County. Open Monday-Friday from 7am until 8pm and weekends 7am until 5pm, this educational facility uses self-guided tours to teach backyard composting to the residents of Mercer County.
Surrounding the compost bins and the central kiosk are seven teaching gardens and a wetland meadow that has been restored with native plants. Below is a map of the facility. Click on the map to see an enlarged version.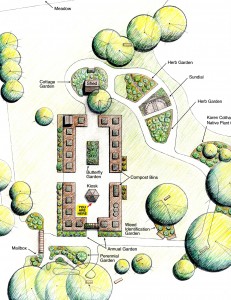 All photos were taken by one of the following volunteer Master Gardeners: Joseph Scarlata, David Byers